The red city
Founded in 1071-1072, Marrakech was the capital of the
Almmorabide and then of the almohade dynasties, The vibrant
medina contains many architectural treasures and authentic
examples of vernacular domestic architecture.
The walls of Marrakech against the dramatic
backdrop of the snowy peaks of the Atlas range ...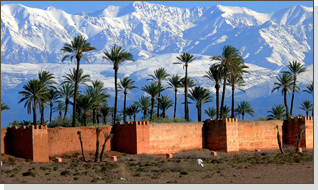 As soon as the Almohades conquered Marrakech,
they began the construction of a mosque on the
site of an Almoravide.
The magnificient 77m-high minaret, visible from
all over the city and its surroundings, was finished
during the reign of Yacoub El-Mansour
(1184-1199) and was the template for the
Giralda in Seville and the Hassan Tower in Rabat.
Around the walls
in a horse-drawn
open carriage ...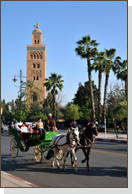 The Koutoubia